Buying a Home in Louisville, Kentucky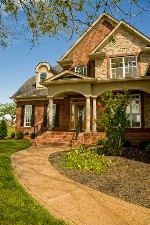 Buying a house is an emotional decision. You aren't simply making a monetary investment, you are finding a spot to raise your kids, walk your dog, mingle with your neighbors, find your own corner of the world. That is why Forman, Jones & Associates does more than simply find you a house... we find you a home. To do that we make it a point to know the person, not just the buyer. Working with our professional team will make the buying process much more efficient. Forman, Jones & Associates creates custom MLS searches of real time properties that meet your criteria the minute they hit the market.
Before you start looking for a home, there are a few questions you should consider:
Where do you want to live?
Are there particular neighborhoods or communities that you like? Are you into park and walk city living or do you want some land?
What kind of house?
Loathe shotguns but love Victorians? Louisville has one the largest concentration of Victorian homes in the United States. How many bedrooms and bathrooms? Any special needs such as home office, gym?
Have you determined your price range?
Have you consulted a lender to determine your appropriate price range? We are happy to recommend a lender or help you with a preapproval to get started. Knowing your price range and being pre-approved will give you an advantage when buying. (Tip) Sellers are much more likely to consider offers accompanied by pre-approval letters.